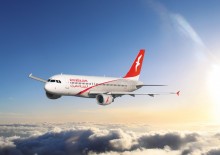 Air Arabia has announced the introduction of its new European destination, Prague in Czech Republic, direct from Sharjah. Air Arabia's inaugural flight to the city will commence on December 11, 2018. The 6 hour 50-minute flight will operate five times per week, every Tuesday, Wednesday, Thursday, Saturday and Sunday. On Tuesdays and Sundays, the flight will depart Sharjah International Airport (SHJ) at 08:00 hours and arrive at Prague Václav Havel Airport (PRG) at 11:50 hours, and on the return leg, the flight will depart from PRG at 12:35 hours and land at SHJ at 21:40 local time. On Wednesdays, Thursdays and Saturdays, the departing flight with leave from Sharjah at 15:30 hours and arrive in Prague at 19:20 hours; the return flight will depart Prague at 21:05 and arrive in Sharjah the following morning at 06:10 hours.
Adel Al Ali, Group Chief Executive Officer, Air Arabia, said, "With the launch of the Sharjah to Prague route, we aim to offer our passengers the chance to discover the colorful and historic capital city, our newest destination in Europe to be available direct from the UAE."
A historic city famed for its Old Town Square and elaborately constructed Baroque buildings, Prague is the capital and largest city in the Czech Republic and one of the most popular touristic destinations in Europe.