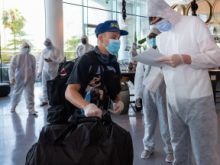 Abu Dhabi has demonstrated its commitment to safely organising large, high-profile events through successful management of health and safety protocols, as some of the biggest names in UFC, touched down in the UAE capital for the much-anticipated Return to UFC Fight Island. The mega five-event series is set to take place on Yas Island from September 27 to October 25. Brazilian fighter Paulo Costa and opponent Israel Adesanya arrived at the W Hotel, inside the UFC Fight Island safe zone on Yas Island, ahead of their UFC 253: ADESANYA vs COSTA clash on September 27. Both sporting black face masks on arrival, the pair were joined by Jan Blachowicz and Dominick Reyes, who go head-to-head in the co-main event light heavyweight bout on the same event card.
Following two initial COVID-19 tests prior to their departure and upon arrival in Abu Dhabi, the athletes are required a third negative test before they can leave their hotel rooms and access the state-of-the-art UFC Fight Island™ safe zone, which includes all event facilities on Yas Island.
Having achieved a new benchmark in global sport safety with its pioneering 'bubble' concept at the inaugural UFC Fight Island™ in July, the 6 square km safe zone incorporates the arena, hotels, and training facilities, as well as entertainment and dining establishments. The safe zone is only accessible to UFC fighters, coaches, delegates and UAE-based event personnel, as well as employees necessary to ensure operational continuity of Yas Island facilities.