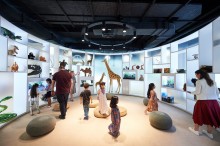 The Department of Culture and Tourism – Abu Dhabi  has announced that the much-anticipated opening of the Abu Dhabi Children's Library and a new theatre at the Cultural Foundation, will take place on September 4, 2019. The launch of these two assets follows an extensive investment in rehabilitating the Cultural Foundation, as part of the development of the Al Hosn cultural site in downtown Abu Dhabi.
Al Hosn cultural site is home to the Cultural Foundation, a cherished historical and cultural landmark which embodies Sheikh Zayed's vision to nurture cultural consciousness and the identity of a modern nation. With the addition of the Children's Library, the Foundation fosters its position and legacy as the UAE's first and most accessible cultural centre dedicated to learning and creativity which encompasses a theatre, a library, and a visual arts centre.
H.E. Mohamed Khalifa Al Mubarak, Chairman of DCT Abu Dhabi, said, "Al Hosn is a key part of our mission to support the younger generations and engage them with the UAE's rich national heritage and with all aspects of global culture, enhancing Abu Dhabi's position as a cultural capital for the Middle East."
The Abu Dhabi Children's Library is spread over three floors, with the 5,250 square metre facility divided into several age-appropriate, social spaces. Designed with inspiration from pop-up books in mind, the library boasts several three-dimensional learning and play spaces in which children can physically immerse themselves to become part of a story. Meanwhile, the Cultural Foundation's renovated 900-seat theatre will showcase world-class contemporary, popular and home-grown performing arts, including music, dance, and theatre, in the heart of the city.