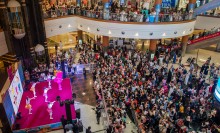 Abu Dhabi National Exhibitions Company (ADNEC) is set to host a series of leading international events in its venues in Abu Dhabi and Al Ain during November 2018, covering key economic sectors like oil & gas, real-estate, investment and healthcare. The exhibitions and congresses to be held this month are significant to Abu Dhabi as these focus on key economic sectors identified in the Abu Dhabi Plan and its Economic Vision 2030, which falls in line with ADNEC's strategy to enhance the emirate's position as the region's capital for business tourism.
Currently, ADNEC is hosting the 10th edition of the International Real Estate and Investment Show (IREIS) running from November 1 to 3. It provides a platform to local and regional real estate companies to showcase their latest projects and offer the best investment opportunities by gathering investors, stakeholders and visitors under one roof. Exhibitors from Egypt, Spain, Morocco, Pakistan, Cyprus, the United Kingdom and the United States have their presence at the show, seeing more than 100 real estate companies showcasing over 300 projects.
The Abu Dhabi International Petroleum Exhibition and Conference (ADIPEC) will be held from November 12 to 15 under the patronage of HH Sheikh Khalifa bin Zayed Al Nahyan, President, the UAE. At the event, world's leading industry experts, policy makers and specialists will discuss the prospects of the energy sector in the country, the region and the world. Over 2,200 exhibitors from different countries will network, exchange experiences and best practices and showcase the leading technologies and business opportunities in this sector. The exhibition is supported by the Abu Dhabi National Oil Company (ADNOC), UAE Ministry of Energy and Industry, and the Abu Dhabi Chamber, and is organised by DMG Events.
Besides, the second edition of "Aqdar World Summit" will be hosted from November 26 to 28 under the patronage of Lt General HH Sheikh Saif bin Zayed Al Nahyan, Deputy Prime Minister, Minister of Interior under the theme "Role of Human Empowerment in Developing Stable Societies: Sustainable Development." Leaders, experts and high-profile speakers from various fields will have deliberations on the main theme and will come up with important impact-based initiatives aimed at developing sustainable societies, empower individuals and support important initiatives and awareness programmes that benefit communities.
Towards the end of the month, "The WorldSkills Asia Competition" will be held at Abu Dhabi International Exhibition Centre from November 27 to 29 – the first to be held this year by the World Skills Association, hosted in Abu Dhabi. The competition aims at promoting excellence in the field of skills and competence development for Asia youth. In conjunction, Abu Dhabi National Exhibition Centre will host the "E-health Workforce Development Conference" from November 28 to 29 through sustainable digital health ecosystem via a skilled and empowered local eHealth workforce. The conference will provide a discussion forum for all the involved stakeholders as well as workshops and training sessions for medical and IT professionals.