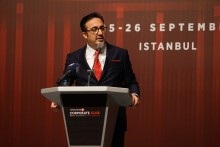 The Turkish Airlines Corporate Club Conference, hosted by Turkish Airlines in partnership with the Global Business Travel Association (GBTA), took place in Istanbul from September 25-26 at the Hilton Istanbul Bomonti Hotel. The event welcomed over 500 international guests to network and enjoy true Turkish hospitality while learning about the latest offerings and key benefits of the Turkish Airlines Corporate Club.
The conference presented global trends in the business travel segment, as well as highlighted the latest developments in the aviation industry. This year the theme was 'Traveler Centricity'. Hundreds of decision makers and key players from the global business travel community are in Istanbul for a line-up of distinguished speakers as well as to learn how Turkish Airlines Corporate Club can add more value to their business.
Attendees were welcomed by Chairman of the Board and the Executive Committee of Turkish Airlines, M. İlker Aycı and keynote speaker Ron Kaufman who kicked off the one-day event. Panel speakers included Arda Ermut, President of the Investment Support and Promotion Agency, Serra Akçaoğlu, CEO and Board Member of Citibank Turkey and Tankut Turnaoğlu, Vice President & General Manager of P&G Turkey & Caucasus.
Commenting on the conference, Chairman of the Board and Executive Committee of Turkish Airlines, M. İlker Aycı said, "We are thrilled to welcome hundreds of high-ranking professionals and business travel leaders from all over the world to Istanbul for this unique event. Turkish Airlines Corporate Club Conference provides a great opportunity to learn the numerous advantages our renewed corporate travel program that offers to its members the latest trends in the business travel industry."