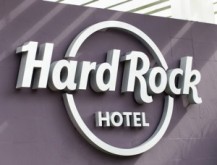 The United Arab Emirates' capital, Dubai, is preparing to get its first Hard Rock Hotel, and company representatives say the new location could open as soon as late this year, or early next year. Dubai's Hard Rock Hotel will inhabit the first 33 floors of the towering Marino 101 building that stands 101 stories tall. It's a fairly middle-sized property in terms of Hard Rock's chain, where hotel capacities vary from 150 to 2,000 rooms. The Dubai hotel will be a 288-room property with adjoining amenities, from a fitness center to a 'rock and roll' spa and restaurant areas.
Just 31 kilometers from Dubai International Airport, Hard Rock Dubai will be within walking distance from Jumeriah beach areas and not far from other big attractions like Burj Khalifa and the Dubai Mall.
Hard Rock Dubai is planning an exciting, unique program called "Sound of Your Stay" in which guests can get a variety of Fender electric guitars delivered to their rooms — or try their hands at the turntables with in-room DJ equipment services.
"The Sound of Your Stay program has been a success since it was globally rolled out at all our hotels," Hard Rock representative Josh Littman said. "We expect the program to be just as much of a success at Hard Rock Hotel Dubai."
With Sound of Your Stay, guests will choose from Hard Rock's trademarked "Picks," "Tracks" or "Mix" services: With "Picks," guests choose a guitar from a variety of 20 Fender electric guitars, as well as headphones and a floor amplifier to play for free during their stay. Video lessons are also available. With the "Tracks" service, guests get curated playlists — hand-selected by celebrities and music pros — to enjoy around the hotel and, later, at home.