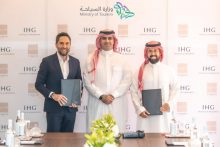 IHG® Hotels & Resorts signed a Master Development Agreement (MDA) with Tashyid for Hotel Operations, which will see the development of 12 hotels and 2,500 keys under the Holiday Inn Express brand across the Kingdom of Saudi Arabia. With Ministry of Tourism encouraging such investments in the Kingdom, the signing took place in the presence Mr. Mahmoud Abdulhadi, Deputy Minister for Destination Enablement. The agreement will allow IHG to expand and diversify its mainstream offering across Saudi Arabia, in line with the demand being created by initiatives under Saudi Vision 2030. As a world-renowned brand, Holiday Inn Express champions simple, smart travel by providing a launch pad for guests to make their connection and is highly suitable and well-positioned for new-age smart travellers visiting Saudi Arabia across business, leisure, and meetings segments, including Saudi's biggest and growing demographic of millennials and Generation Z travellers.
As part of the agreement, IHG has also signed the first Holiday Inn Express hotel with Tashyid for Hotels Operations Limited which will debut the brand in Jeddah by June 2025. Marking a key milestone for the brand in the Kingdom, the 300-room hotel will be located on Al Madinah Road, one of the busiest areas in the city. Providing a best-in-class experience, guest rooms at Holiday Inn Express Jeddah will feature amenities such as high-speed WiFi, smart TVs, premium bedding, and pillow options to ensure guests have a restful stay. The hotel will also offer signature complimentary 'Express Start Breakfast', speedy check-in, and power showers to ensure guests are recharged for the day.
Known for its success in the upper-midscale segment and understanding of the 'Next Gen Smart traveller', Holiday Inn Express hotels in Saudi Arabia will debut reimagined public spaces and guest rooms that blend trendy and efficient design with local aesthetic. Modelled on market specific research focused on the Millennial and Gen Z Saudi traveller, the hotels will offer guest experience reflecting their lifestyle and needs. The public spaces will serve as lively and engaging spaces featuring a revamped F&B offering, while the guest rooms will offer a balance of home comforts with smart design giving guests flexibility to better support their routine. Haitham Mattar, Managing Director, India, Middle East & Africa, IHG Hotels & Resorts said: "As we continue to expand our presence and diversify our offering, in line with Saudi Arabia's tourism strategy, we are delighted to announce a partnership with Tashyid for Hotel Operations to further grow our Holiday Inn Express offering in the Kingdom for domestic and international travellers alike.
He added: Saudi Vision 2030 has created tremendous opportunities for the tourism and hospitality industry, and we see an increasing demand for our brands across segments. Holiday Inn Express is a great offering for smart travellers who seek a hassle free and efficient stay experience, and we are looking forward to providing this experience to guests across a country, in the coming years.
Falih Motasim Hajaj, Chief Executive Officer of Tashyid added: " We are delighted to partner with IHG Hotels & Resorts to enable our rapid expansion within Saudi Arabia, in line with Saudi's Vision 2030. With the Kingdom marking its presence on a global tourism map, working with leading industry partners such as IHG is key to helping set new standards of hospitality, embrace innovation and ultimately achieve a diversified economy."
Holiday Inn Express is IHG's fastest growing brand with currently over 3000 operating hotels, globally.
IHG Hotels & Resorts currently operates 39 hotels across five brands in Saudi Arabia, including: InterContinental, Crowne Plaza, Holiday Inn, Staybridge Suites, and voco, with 30 hotels in the development pipeline set to open within the next three to five years.
.