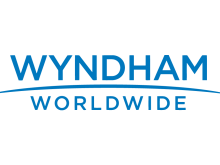 Starting from April 16, 2018, Wyndham Hotel Group brands is set to unite its family of hotel brands under one umbrella by adding 'by Wyndham' suffix to their names. Brands adding the hallmark are Super 8, Days Inn, Howard Johnson, Travelodge, AmericInn, Baymont, Ramada, Ramada Encore, Dolce, Dazzler, Esplendor and Trademark – representing 7,074 properties across the globe. The move not only unites the company's diverse hoteliers under a common mission and name, but is also expected to favourably impact guest trial and brand awareness throughout the company's portfolio.
"As the leader in midscale and economy lodging, the Wyndham name has become synonymous with making hotel travel possible for all," said Barry Goldstein, Executive Vice President and Chief Marketing Officer, Wyndham Hotel Group. "This new designation for our brands is a celebration of the accomplishments we've made in our mission to make travel possible for everyone, revolutionising Wyndham Rewards and elevating our brands through a laser focus on quality, technology, and sales and marketing," he said.
The updated brand names and logos will appear across Wyndham's digital placements from brand websites to mobile sites and third-party listings.