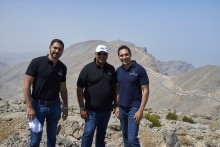 It's good news for all adventure seekers from the Ras Al Khaimah Tourism Development Authority, as they're set to launch the first phase of the longest zip line in the world at mountain Jebel Jais. This multi-million dollar ecotourism project is partnered by world's leading zip line operator, Toro Verde. With the exact length of the zip line remaining a closely-guarded secret until the multi-million dollar adventure tourism product's opening, the zip line will propel the UAE's most northern emirate into the major leagues of global adventure tourism and cement Jebel Jais as the region's leading active adventure tourism destination.
With RAKTDA aiming to secure Guinness World Records status for the world's longest and highest zip line, Toro Verde UAE, a subsidiary of the Puerto Rico based Magno Genesis Holding Group, has been appointed to construct and operate the attraction. The zip line will be open to all ages, providing participants meet required minimum weight of 35kg and maximum weight of 150kg, and a minimum height of 120cm.
Haitham Mattar, CEO, RAKTDA stated at the press conference that this move is to complement Ras al khaimah's contribution to the overall tourism industry in the UAE. RAK is promoted more as adventure or wellness tourism destination. Toro Verde currently holds the Guinness record for the longest zip line in the world and RAK will be positioning itself as number one by the first week in December. He further went on to state that this will be a destination which could attract both commercial and non- commercial activities.
"Building on the success of last year's launch of the Jebel Jais Via Ferrata adventure product, the new zip line represents Ras Al Khaimah's most significant tourism product opening since Al Marjan Island, our coral-shaped leisure tourism archipelago. This key product launch will further enhance Ras Al Khaimah's unique mountain-beach-desert offering as the emirate moves towards its goal of attracting one million visitors next year, under the guidance and vision of His Highness Sheikh Saud bin Saqr Al Qasimi, Supreme Council Member and Ruler of Ras Al Khaimah." said Mattar.
H.E.Francisco Chacon Hernandez, Ambassador for Embassy of the republic of Costa Rica stated that this move is a way forward in order to strengthen relations with the UAE by Latin American regions.