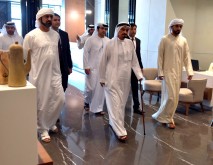 Wyndham Garden opened its doors recently under R Hotels in Ajman Corniche under the patronage of His Highness Sheikh Humaid bin Rashid Al Nuaimi, Supreme Council Member and Ruler of Ajman; His Highness Sheikh Ammar bin Humaid Al Nuaimi, Crown Prince of Ajman; and His Highness Sheikh Rashid bin Humaid Al Nuaimi, Chairman of Ajman Municipality and Planning, and Chairman of R Holding. The new hotel is the first Wyndham Garden to open in the UAE. Boasting sweeping views of the Arabian Gulf, the property features 179 rooms and suites, all facing the beachfront. It will also showcase an executive lounge on the top floor, and state-of-the-art leisure facilities including a modern spa, fitness club, outdoor swimming pool with Jacuzzi, and kids' club.
Al Nuaimi remarked, "The emirate of Ajman welcomes Wyndham Garden Ajman Corniche, a new landmark to showcase exceptional Emirati hospitality to the rest of the world. This is another testament on the continuous growth of the tourism sector in the emirate."
Sumair Tariq, Managing Director, R Hotels, commented, "With the solid performance of Ramada Hotel & Suites Ajman and Ramada Beach Hotel Ajman over the years, we are confident that the hotel will deliver the highest standards of service to all the guests, with its seasoned and professional team.