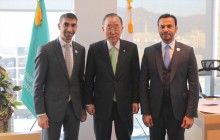 His Excellency Dr Thani bin Ahmed Al Zeyoudi, Minister of Climate Change and Environment has announced that the UAE will contribute US$1.5 million annually for the period 2019 to 2021 cumulatively amounting to US$4.5 million to fund the projects carried out by the Global Green Growth Institute (GGGI). The announcement was made at the GGGI's Assembly and Council in the presence of His Excellency Dr Al Zeyoudi, who led the UAE delegation at the assembly.
Reiterating the UAE's commitment to green development, His Excellency Dr Al Zeyoudi said, "In the UAE, we are resolved to achieving a green economy as per the UAE Green Agenda 2030 adopted by the UAE Cabinet in 2015. During 2017-2018, we have made a lot of progress in the implementation of the Green Agenda 2030 and key policy developments with the assistance of the GGGI Abu Dhabi office team. The UAE Cabinet adopted the National Climate Change Plan 2050 in June 2017, which consolidates the country's climate mitigation and adaptation initiatives under one integrated framework. As part of the Climate Plan implementation, we have recently conducted a comprehensive climate risk assessment across four key sectors and identified priority climate risks that require us to develop appropriate adaptation measures." Highlighting one of the initiatives in green development in the UAE, His Excellency added, "The development of green growth indices is not new to us. We have already set 41 Green Key Performance Indicators to track the UAE's progress towards achieving a green economy and offer regular updates through the UAE State of Green Economy Report. Furthermore, we launched the UAE Green Dashboard just last week, an open data platform which allows anyone to access and analyse underlying data on the 41 Green KPIs."
Accompanied by His Excellency Abdullah Saif Al Nuaimi, Ambassador of the UAE to South Korea, His Excellency Dr Al Zeyoudi visited Korea Polar Research Institute that is leading Korea's national polar programme for both the Arctic and the Antarctic, to explore first-hand the institute's research efforts and to find out how it is engaging the youth and the public in polar studies. His Excellency was introduced to the key studies and research projects developed at the institute in the last 30 years.