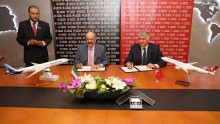 Turkish Airlines and Kuwait Airways announced a new strategic partnership, which saw Kuwait national carrier's code added to Turkish Airlines flights, and Turkey's national carrier's code added to Kuwait Airways flights operated between Kuwait and Istanbul/Sabiha Gokcen Airports. The Bilateral Codeshare Partnership will commence from August 1, 2019. Turkish Airlines and Kuwait Airways' cooperation is further strengthened by signing the renewed 'Special Prorate Agreement' in May 2019.
The signing ceremony of this codeshare agreement took place on July 9, 2019 at Turkish Airlines Headquarters in Istanbul, and was attended by Bilal Ekşi, General Manager of Turkish Airlines, and Yousef Al-Jassem Al-Saqer, Chairman of Kuwait Airways, along with respective delegation from both airlines.
Turkish Airlines General Manager, Bilal Ekşi, said he is pleased with the new codeshare agreement signed with Kuwait Airways and added that the agreement would not only contribute to the carrier's existing commercial relations with Kuwait Airways but also offer alternative connections between Turkey and Kuwait for Turkish Airlines passengers.
"Istanbul is the natural and historical connection point between Asia and Europe. With its brilliant performance over the last 16 years, Turkish Airlines holds the title of the airline that flies to the highest number of countries in the world with 124 countries. The opening of our new home base, Istanbul Airport will further contribute and create new opportunities for our airline and I firmly believe that this codeshare agreement will support promoting the cultural and commercial relations between Istanbul and Kuwait," Ekşi added.