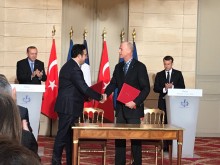 Turkish Airlines and Airbus signed an MOU to acquire 20+5 optional A350-900 aircraft. The agreement was signed at the Élysée Palace, Paris, during Turkish President Recep Tayyip Erdoğan's official visit to France with French President Emmanuel Macron.
"With Turkish Airlines serving more destinations than any other airline around the world, we will be delighted to rely on our new A350 XWB to further develop our major international routes from Turkey." said M. İlker Aycı, Chairman of the Board and the Executive Committee, Turkish Airlines. Aycı went on to say, "This agreement is set to play a key role in our growing business in the years to come as the increased business volume for the local Turkish supplier industry by Airbus will be a great gain for the sector."
The A350 XWB is an all new family of mid-size wide-body long-haul airliners shaping the future of air travel. It features the latest aerodynamic design, carbon fiber fuselage and wings, plus new fuel-efficient engines. These latest technologies translate into unrivalled levels of operational efficiency, with a 25 per cent reduction in fuel emissions, and significantly lower maintenance costs.