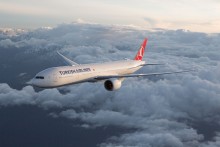 Turkish Airlines has performed well beyond expectations in 2017. The number of passengers in 2017 compared to previous year was increased by 9.3 per cent and the flag carrier carried 68.6 millions passengers. Compared to the previous year, the load factor reached 79.1 per cent by increasing 4.7 points. The carrier has reached the highest December load factor rate with 79.5 per cent in December 2017.
M. İlker Aycı, Chairman of the Board and Executive Committee, Turkish Airlines, had given the first signal of the carrier's proven success at the end of 2017 in January 2017. He said, "We believe that 2017 will be much better year than 2016. We made our plans and savings accordingly. We are analysing the conditions of our home country, our region, our industry, the developments and trends in aviation and tourism sector. I believe Turkish Airlines will complete the year with increased power, brand value and market share once again''.
In December, cargo/mail volume increased by 18.4 per cent, compared to December 2016. In December, Load Factor increased for all regions. Middle East, North America and Africa showed visible growth among other regions with 7,1 points, 6.8 points and 5.6 points increase, respectively. During January-December, increase in demand and total number of passengers were 7.9 per cent and 9.3 per cent, respectively, over the same period of last year.