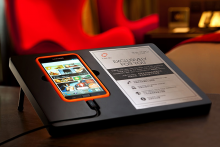 Tink Labs Limited, Hong Kong-based start-up, is bringing its mobile travel solution handy to the GCC as part of its global expansion. handy is an innovative smartphone provided as a complimentary amenity in partner hotel rooms, integrating with hotel services and offering travellers unlimited connectivity on the go, as well as tailored travel guides. The hand-held device helps to deliver hassle-free travels and meet a growing demand for Internet connection services from hotel guests. In the GCC, handy engaged in a pilot project with luxury hoteliers in Dubai with plans to launch in the rest of the UAE, Qatar and Saudi Arabia, among other markets in the region.
In each market, handy helps to connect travellers with their destination by revealing local gems while on the go and tools they need to travel like locals. handy's mission to make travel easier and destinations more accessible means it perfectly complements the smart tourism projects underway in gateway GCC cities, such as Dubai.
"After proven success in international markets from Hong Kong to London, we see a tremendous opportunity to create more travel-friendly experiences and help boost tourism in key destinations in the GCC," said Terence Kwok, Founder and CEO, Tink Labs.
"Facilitating enduring, fun connections between tourists and their host cities plays a crucial role in creating an enriched experience for travellers and hoteliers and in boosting the city's reputation as a must-visit tourist destination. This is why, in 2017, we plan to offer handy to travellers in dozens of new markets, including Dubai, Abu Dhabi and Doha among others," he said.
Spearheading launch operations in new markets and responsible for the business in the Middle East is Tink Labs Limited Managing Director Jean-Pierre Aramouni, who added: "Beyond connecting GCC visitors, handy helps local hoteliers differentiate and unleash their untapped revenue potential, for a personalised experience that increases customer retention. Consumer usage in other markets has demonstrated that handy extends the hotel services footprint and delivers an average of $17 of incremental revenue per room per night to hotels."