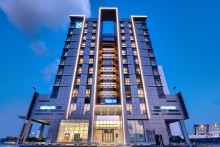 The S Hotel Al Barsha has confirmed its participation at Arabian Travel Market 2019 to be held from April 28 to May 1 at Dubai International Convention and Exhibition Centre. Shailesh Grover, General Manager, The S Hotel Al Barsha, said, "As the region's leading travel fair, Arabian Travel Market offers us a fabulous platform to introduce and showcase our first The S Hotel in the Middle East, The S Hotel Al Barsha."
A recent research report released by Arabian Travel Market ahead of the major event reveals that the UAE is set to welcome 8.92 million visitors from top five source markets by 2023. The report says that the country's top three source markets for inbound tourism are India, KSA and the UK. The number of Indian visitors travelling to the UAE will increase at a CAGR of 7% to 3.01 million in 2023, while arrivals from Saudi Arabia and the UK will witness an increase of 2% and 1% to 1.76 million and 1.28 million respectively over the same period.
"Our marketing efforts are geared towards attracting guests from these high-growth segments. Our focus is to get a bigger slice of the inbound tourists from India, KSA, the UK, China and Russia. We're also targeting the GCC & Middle East, Southeast Asia, Far East Asia, Europe and Latin America," Grover explains.