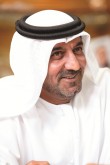 Ahead of the International Civil Aviation Day on December 7, His Highness Sheikh Ahmed bin Saeed Al Maktoum, President of Dubai Civil Aviation Authority (DCAA), Chairman of Dubai Airports and Chairman and Chief Executive of Emirates Airline and Group stated that smart services at airports and in air navigation reflect the UAE's commitment to ensuring safe, secure and environment-friendly aviation network.
"Through efficient implementation of ICAO's Standards and Recommended Practices, Dubai and the UAE are ensuring safe and secured air travel for passengers around the world. I consider the theme for this year, 'Working together to ensure no country is left behind', highly important in the light of the increasing international air transportation between states." Maktoum said.
The purpose of International Civil Aviation Day is to help generate and reinforce worldwide awareness of the importance of international civil aviation to the social and economic development of states, and of the unique role of ICAO in helping states to cooperate and realise a truly global rapid transit network at the service of all mankind.