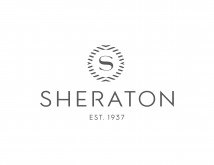 Sheraton Hotels & Resorts, Marriott International's most global brand continues its transformation journey with a nod to its timeless pioneering legacy, as it unveils a new logo that pays homage to its past and depicts its vision for the future. The new design reflects the brand's holistic vision for the future, making Sheraton the central gathering place of communities around the world, welcoming guests and locals into a public space that embodies the modern town square vibe.
"The logo's evolution reflects the renewed energy and firm commitment we are making to our owners and guests to the resurgence of this iconic brand.  More than a logo, this is a symbolic statement of Sheraton's vision for our new guest experience," said Mara Hannula, Vice President, Global Brand Marketing, Classic Premium Brands. "This was the final piece of the redesign puzzle and offers a modernized look and feel to match our reimagined spaces while maintaining the powerful equity and recognition of the original logo."
The new Sheraton experience will be available to guests later this year in Phoenix. The transformed 1,000-room Sheraton Grand Phoenix hotel which the company purchased in 2018 will bring to life the first of Sheraton's full on-strategy hotel along with other exciting innovations.
"We are excited to introduce the new direction of the brand's iconic symbol in the Middle East and Africa, where Sheraton has nurtured long-standing relationships with guests, owners and communities for over 50 years," said Sandra Schulze–Potgieter, Vice President Premium & Select Brands, Marriott International Middle East and Africa. "In line with the transformation of the brand, we are excited to showcase our early adopter properties soon, the Sheraton Jeddah Hotel and Sheraton Grand Hotel, Dubai."