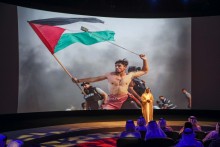 His Highness Sheikh Dr Sultan bin Mohamed Al Qasimi, Supreme Council Member and Ruler, Sharjah has inaugurated the third edition of 'Xposure' International Photography Festival 2018 in the presence of His Highness Sheikh Sultan bin Mohammed bin Sultan Al Qasimi, Crown Prince and Deputy Ruler, Sharjah. Based on the theme 'Inspiring Moments', the region's premier photo festival runs until November 24, and is organised by the Sharjah Government Media Bureau (SGMB). Over ninety celebrated snappers from all seven continents have brought the cream of their works, and hundreds of them are on display at the exhibition space created by SGMB at Expo Centre Sharjah.
His Highness the Ruler of Sharjah toured the indoor exhibitions, stopping at some to enjoy a closer look at the evocative photography brought in from around the world by emerging and internationally-recognised artists. He met several participating photographers and congratulated them for their brilliant contributions to the field. The Ruler also visited the photographic trade shows by leading brands and exhibitions by acclaimed professional institutions.
At the opening ceremony, Sheikh Sultan bin Ahmed al Qasimi, Chairman, Sharjah Media Council (SMC), reiterated the importance of images in communicating messages in a language that the world understands, and their capacity to show us the truth, disseminate knowledge, give birth to new friendships and bring peace. Pointing to the theme of the festival, 'Inspiring Moments', he said that 'Xposure' 2018 has been dedicated to presenting moments of truth and inspiration undergone by some of the world's most celebrated photographers. He emphasised the need for responsible and honest photography, simply due to the far-reaching impact of an image.
"Photographs communicate critical messages and stimulate human conscience. They have a way of entering our consciousness, our hearts and minds effortlessly," he added. Sheikh Sultan bin Ahmed al Qasimi called photographers 'truth makers', and applauded their unfailing dedication as 'transmitters of information, knowledge and beauty', given their paramount role in documenting the past and present, and serving humanity, history and future. He called on them to ensure that their photographs always represent honesty and truth.