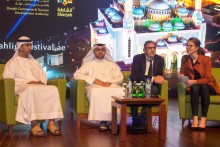 The seventh Sharjah Light Festival will begin from February 2-11, 2017, covering over 23 locations across the Emirate. His Excellency Khalid Jasim Al Midfa stated that this year there will be some new additions and the theme will focus on the future of innovation and technology hence the partners to support this event are from the sectors of technology. Last year, over 600,000 visitors enjoyed this magnificent festival which provides a good platform for those passionate about art and culture.
Some of the locations include – Al Qasba; Al Taqwa Mosque, Al Noor Mosque; Al Maghfira Mosque; University City Hall; Sharjah Center for Astronomy & Space Sciences; Al Qasimi Mosque; The new Jubail Fish and Vegetable Market; The Family Supreme council of affairs; Al Majaz Amphitheatre; Cultural Square; Cultural Palace; Khalid Lagoon Corniche; Al Majaz Waterfront; Flag Island; the bridges; A few mini locations across the city, This year the opening will be at Al Qasimia University. Outside the city there will be events at Khorfakkan University; Dibba; Kalba and Al Dhaid. So you should have plenty of opportunity to get involved. With some interactive locations around the corniche we are all excited to take part.
As Sharjah promotes itself as the Arab capital of culture more families are drawn to the Light Festival as each member has something that could be enjoyed which will make them more culturally responsible humans. Each location will be unique to attract visitors and this year there will be a special competition for the artists as well. More information will be provided in due course.