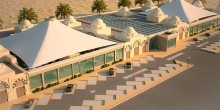 With ecotourism spots located in the central region, Sharjah is steadily improving its development and public infrastructure projects in the area. A new shopping mall has been opened in the town of Al Madam on the Dubai-Hatta road, just 20 minutes away from the famous Mleiha ecotourism centre.
All 27 retail units at Al Badayer Shopping Mall have been leased, although the facility is being opened to the public in two phases. Phase two of the mall is expected to be opened in February 2018, which will be dominated by a large camping equipment, sporting goods and outdoor supplies retailer. Sharjah's retail sector is currently enjoying a period of strong growth, with more than 4 million square feet of new mall space expected to be added to the sector by 2020. Projects include the expansion of existing shopping malls in Sharjah, two new mega-malls outside the city area, plus local shopping centres in the emirate's central and eastern regions.
The Government of Sharjah is currently implementing a 25 year strategic development plan for its central region, which includes the towns of Al Dhaid, Mleiha and Al Madam. The plan aims to enhance the quality of life, prosperity and job opportunities for residents of region.