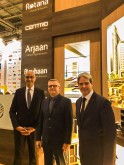 Salalah Rotana, a five-star hotel in Oman renewed its partnership deal with Polish tour operator Itaka. The deal directly complements the government's effort in promoting Oman as a destination of choice to travellers. The renewed partnership will see 180 guests arrive weekly to the resort.
Hossam Kamal, General Manager, Salalah Rotana Resort, said, "The renewal of our partnership signifies the success of our journey with Itaka. We pride ourselves in the level of service provided by our colleagues and achieving high guest satisfaction. The Sultanate's appeal in terms of safety, political stability and unique tourism offering continues to be an attraction for travellers to Oman.
Piotr Wrzesniewski, Charter Produce Director, Itaka said "Our journey with Salalah Rotana has been a very rewarding one. The resort has been a great holiday destination to our guests with exceptional service. Oman has gained popularity in the Polish market and it is our pleasure to facilitate the movement of our guests to Oman''.