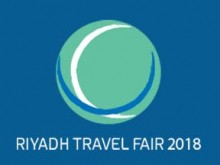 Opening doors for the tenth consecutive year, Riyadh Travel Fair (RTF) 2018 is set to be held at the Al Faisaliah Hotel, Riyadh from April 10-13, 2018. The four-day event will become the focus of business networking opportunities, seminar sessions, discussions and the recognition of the tourism industry's achievements throughout the year. More than 270 exhibitors will be present representing more than 50 countries. Over 50 national and regional pavilions will also have a prominent presence. The show floor space has also increased by 10 per cent compared to the 2017 event.
"Last year, RTF featured 270 exhibitors with visitor attendance at 27,329. That was an increase of 30  per cent compared to the 2016 edition. This year will continue our year-on-year growth as exhibitors hit over 270 and expected visitors numbers over 30,000," said Bander' Al Gryni, General Manager, ASAS Exhibitions (organiser of RTF).
The Riyadh Travel Fair is open to both travel professionals and the general public looking for in-depth destination information and special deals. Visitors to the 2018 edition will be able to interact directly with various tourism authorities, hotels, airlines and travel agents from around the world.