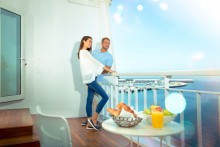 The Queen Elizabeth 2 (QE2) will open its doors to the public on April 18, 2018 following highly anticipated international interest. PCFC Hotels, part of the Dubai government's Ports, Customs and Free Zones Corporation, has reinvented the legendary vessel as the latest tourism destination, in a city renowned for its world-class attractions. The world-famous cruise liner, which has a history spanning five decades, is now docked permanently at Mina Rashid, where her dining, accommodation and entertainment attractions will be unveiled. In this first phase, she will be welcoming passengers on board to experience a selection of beautifully restored rooms and suites in the adjacent QE2 Heritage Exhibition.
Hamza Mustafa, CEO, PCFC Hotels commented, "To finally open the QE2 is a dream come true for my team. It is one of Dubai's most highly anticipated projects and we know that a lot of people are going to be very excited to see her for the first time, or to step back on board the vessel that created so many wonderful memories during her 40 years at sea. We are thankful to our Chairman, Sultan Ahmed Bin Sulayem whose vision and determination to give her a second life has come to fruition."
The 13-deck hotel has been thoughtfully restored to her former glory – maintaining her most loved interior design features – including her period furniture, renowned paintings and famous memorabilia.