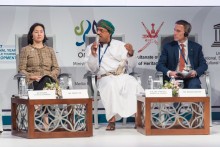 The Ministry of Tourism has launched a new promotional website 'www.experienceoman.om' which will serve as a one-stop shop for all Oman Tourism related information. The website was launched under the patronage of His Highness Sayyid Haitham bin Tariq Al Said, Minister of Heritage and Culture during a gala dinner hosted on the sidelines of the 2nd UNWTO/UNESCO World Conference on Tourism and Culture.
The launch of the website comes as a part of the Ministry's initiatives to support the development of the tourism sector in all areas, especially in the use of electronic platforms and digital marketing. Providing insights into suggested travel itineraries, list of tour operators, hotels and services, MICE opportunities; the website also orients tourists with the latest events in Oman and can be viewed in six languages.
The website promotes the Sultanate as a unique tourism destination with distinct cultural, historical and natural components, and enables tourists to obtain the information they need to visit tourism attractions. 'www.experienceoman.om' will complement the existing 'Oman Tourism' website to provide comprehensive and diverse information regarding Oman tourism.