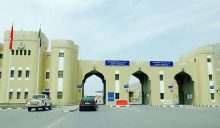 According to the Oman Observer, Dr. Saif al Abri, Director-General of Disease Control at the Ministry of Health, during the press conference of the Supreme Committee has said Oman will open the land borders from the first of September, while adhering to the controls announced by the Supreme Committee, including conducting a Covid-19 examination before arrival. "The land borders will be opened from September according to the conditions set by the Supreme Committee… As for the land ports, the vaccination will be required as well as the examination before coming and not upon arrival." Al Abri said.
The officials from the Sultanate and UAE recently inspected the land border between the two countries and discussed a number of issues to facilitate the smooth flow of commercial traffic and the transit of travellers. The meeting reviewed the joint coordination mechanism between the Omani and Emirati sides, the process of facilitating the transit of travelers, especially in light of exceptional circumstances and precautionary measures to curb the emerging Coronavirus (Covid-19) pandemic, in addition to discussing the direct coordination mechanism for the stage of recovery from the pandemic.
Lt Colonel Saeed bin Saleh al Siyabi, Director of Customs of the Buraimi Police, and Khalifa bin Hamad al Shamsi, Director of the Land Ports Department at the General Authority for Ports, Borders and Free Zones Security in the Emirates led the meeting from both sides. The Sultanate reopened land borders with neighboring countries in June allowing Omanis and residents to cross the borders for work purposes.
However, it was mandatory for residents to provide proof of work from the employer at the border checkpoints. According to sources, the issuance of visas for expatriates will resume soon at land borders. Mwasalst bus services between Muscat and Dubai have been suspended until further notice.