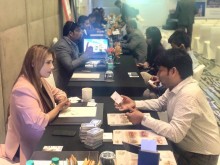 Golden Sands Hotel Apartments (GSHA) continues to be the preferred accommodation of visitors from India as shown by the increased interest received by the team at a tourism roadshow held in Delhi recently. Over 400 trade professionals comprising key travel and tour operators, wedding planners and upmarket leisure operators from the city attended the roadshow organised by the Dubai Department of Tourism and Commerce Marketing (DTCM).
Mohammed Khoori, General Manager, said, "The roadshow opened up new opportunities to tap agents who are not familiar with Golden Sands Hotel Apartments. It was the ideal platform to interact with a significantly higher number of travel agents and tour operators that market a new segment of travellers from India. The main market segments that we are looking at tapping in India this year are the group series departures and the family segment travellers who will be heading for the New Year and Dubai Shopping Festival (DSF) 2019. Our main focus on expanding and consolidating ties with the new travel segment was to reach out to a larger audience and gain a higher market share."
Earlier in the year, the team of GSHA joined another DTCM roadshow and visited the cities of Kolkata, Pune, Ahmedabad and Mumbai and met potential partners and buyers.