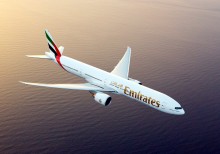 Emirates extended its popular 'My Emirates Pass' programme to customers flying to or through Dubai between January 1 and March 31, 2018. The programme gives Emirates' customers exclusive offers and discounts across the city by turning the Emirates boarding pass into an exclusive membership card. Customers can take advantage of a range of offers at some of Dubai's best known hotspots by simply showing their Emirates boarding pass and a valid form of identification.
'My Emirates Pass' has also expanded the programme with more partners – customers can now enjoy special discounts at over 250 world class restaurants and hotel dining outlets in Dubai. Exclusive offers are also available on a range of leisure activities including visits to championship golf courses, theme parks or luxury spas across the city.
"This year, we've doubled the number of partners in the programme to give our customers more options and even better value on their visit. Whether it's your first time in Dubai or a return trip, there is always something new to explore," says Mohammad Al Hashimi, Vice President, Commercial Products Dubai, Emirates airline.