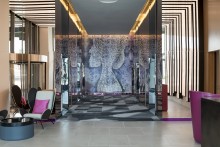 Majid Al Futtaim and Marriott International have announced the opening of Aloft City Centre Deira, the Aloft brand's third property in Dubai. Owned and developed by Majid Al Futtaim, Aloft City Centre Deira is situated in the cultural heart of Dubai and is the first hotel in the region to offer movie-themed suites, alongside a VOX Cinemas' OUTDOOR screen and the Aloft brand's signature programming.
Jalil Mekouar, Chief Executive Officer of Hotels at Majid Al Futtaim – Properties said, "I'm delighted to announce the opening of the Aloft City Centre Deira, which is our 13th hotel in the region. This is a milestone moment for Majid Al Futtaim as we integrate our VOX Cinemas brand into one of our hotels for the first time. This concept will provide a completely new offering within Dubai's hospitality sector and will see us create even more authentic and personalised experiences that will delight guests in our home market. Aloft City Centre Deira is testament to our unique integrated destination offering, that brings together our award-winning hospitality, shopping, leisure and entertainment lifestyle excellences to create memorable experiences for our guests."
Aloft City Centre Deira delivers a fresh approach from the traditional hotel landscape with its emphasis on a lively, in-hotel social scene, modern design, innovative music programming, and thoughtful technology incorporated to enhance guest experience.