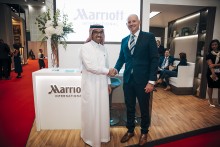 Marriott International has signed a distribution co-operation agreement with Al Tayyar Travel Group (ATG), which will establish direct connectivity between the two companies and allow ATG to pull inventory and rates in real time from Marriott International's reservations systems. The agreement is mutually beneficial to both companies as Marriott International will have access to ATG's wide reaching network within KSA and beyond.
Neal Jones, Chief Sales & Marketing Officer Middle East & Africa, Marriott International said, "We are delighted to consolidate our partnership with this exciting new connectivity announcement. Al Tayyar Travel Group has invested significantly in technology and payment platforms, and Marriott International is extremely proud to be able to dynamically connect our reservation systems to the mutual benefit of our companies. This will ultimately provide better service and availability of inventory to the travel trade and consumers in the MENA region."
"Our partnership with Marriott International provides customers with seamless access to a globally renowned hospitality company, and its wide-ranging offer of brands and properties, as well as the best available rates," said Abdullah Aldawood, CEO, Al Tayyar Travel Group. "This agreement will further accelerate the growth of our company. We are delivering on our transformation strategy of being a leading online travel agency and holiday advisor in MENA, offering Omni-channel travel services," Aldawood said.