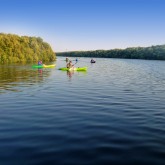 Al Zorah, a leisure destination in the UAE, expands its portfolio of sporting activities to offer water sports experiences. The destination will host several motorised and non-motorised sports including jet-skiing, wake boarding, flyboarding, kayaking, paddle boating, water skiing, kite-boarding and much more. Catering to all age groups and levels of ability, the new additions promises visitors an action-packed experience at Al Zorah. With friendly, safety-conscious instructors and equipment available on the peninsula, guests can take it at their own speed and wait for winds that suit them.
Imad Dana, Chief Executive Officer, Al Zorah Development Company, said, "The introduction of the leisure and recreational activities at Al Zorah further reinforces our objective to offer a distinctive tourist and lifestyle destination. Water sport enthusiasts and families looking for an exciting vacation can escape the bustle of city life at Al Zorah."
The destination will soon host special events like Stand-Up Paddle Boating Championships, Best Underwater Photo Competition and Jet-skiing Acrobatic Displays.