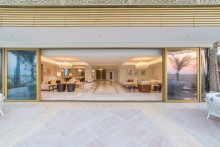 Kleindienst Group, developer of The Heart of Europe, a cluster of six islands on The World, unveiled the first Sweden Beach Palace at Sweden Island in Dubai. The Sweden Beach Palaces will consist of nine luxurious palaces, plus one super-sized version, set in the beautifully landscaped Sweden Island. Each property will have its own private section of beach, and unique to the palaces, a fully-owned piece of the marine area plot, including a private coral reef. The properties have been designed as second homes, Dubai's first purpose-built luxury area for UAE residents to own a holiday property in their own country.
Josef Kleindienst, Chairman, Kleindienst Group said, "Catering to residents and visitors who are looking for a dynamic, cultural experience, our developments at The Heart of Europe will boost tourism in the UAE. It will also offer investors the opportunity to choose from a range of high quality holiday properties that will be part of a vibrant touristic destination that includes hotels, restaurants and world-class attractions. Our journey to date has taken us to the unveiling of the Sweden Beach Palaces, one of the most luxurious freehold second homes in the UAE."
The first Sweden Beach Palace features seven plush bedrooms, each with its own en-suite bathroom. Five of the palaces will be fitted out with Bentley Home interiors, while the remaining properties will be bespoke to the individual owners.