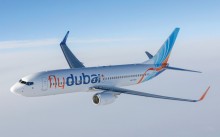 flydubai is set to commence flights to Kilimanjaro from October 29. The re-launched service to the carrier's third point in Tanzania, along with Dar es Salaam and Zanzibar, will see flydubai's network in Africa expand to 12 destinations. Kilimanjaro will be served with six flights a week, three of which are via a stop in the capital, Dar es Salaam. In addition, the carrier will increase direct flights to Zanzibar from three to eight flights a week.
Commenting on the launch of flights, Ghaith Al Ghaith, Chief Executive Officer of flydubai, said, "With the addition of the service to Kilimanjaro and more direct flights to Zanzibar, flydubai will operate 14 flights a week, marking a 133% increase in capacity to the market compared to the previous year. This is a healthy indication of the rising popularity of Tanzania as a preferred tourist destination and we are happy to be connecting the market to Dubai."
"flydubai's service to Kilimanjaro will introduce more options for travel with a Business and Economy Class service, together with added cargo capacity available through our Cargo Division. We expect to see healthy flows of trade and tourism on this route from the GCC and Eastern Europe via our hub in Dubai," said Sudhir Sreedharan, Senior Vice President Commercial – GCC, Subcontinent and Africa.