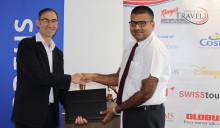 Amadeus has announced the renewal of its partnership with Khimji's House of Travel, a leading travel agency in Oman. The agency will be able to leverage Amadeus' flagship products to deliver a superior level of service experience to their customers, making their journeys seamless during the whole trip process. Amadeus will provide Khimji's House of Travel with solutions such as Amadeus Fare Optimiser, enabling travel agents to discover the best flight fares; Amadeus Online Corporate Traveller to manage corporate travellers, reduce business travel costs, increase policy compliance, and streamline the travel management processes; Amadeus e-Power to drive its online aspirations and provide rich contents 24*7 to customers; and Amadeus Travel Alerts Notifier, which keeps travellers informed about their booking up to their arrival back home, and more.
Cashio Vettom, General Manager, Khimji's House of Travel, said, "With this partnership, we are expanding our core capabilities to provide the best experience to our customers by using automated systems and programmes that increase our own efficiencies. We're looking forward to sharing the benefits of this partnership with consumers across the Sultanate."
According a recent report revealed by the Colliers International, Oman's tourism industry is expected to grow by 13 per cent between 2018 and 2021.