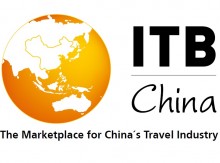 For the second time in a row the Hospitality Sales and Marketing Association International (HSMAI) and ITB China, set to take place from May 15 to 17, 2019 in Shanghai, have joined together to promote education and professional development in the hospitality industry. HSMAI is a 90-year-old, global, non-profit association with more than 7,000 members committed to growing business for hotels and their partners. It has recently recruited Asia's top hotel revenue managers to join forces to produce a training programme that underpins a new online industry education platform. Appropriately, on May 17 the dedicated 'Education & Job Day' is being held for the second time at the ITB China Conference 2019. It is focusing on the exchange of educational knowledge and the promotion of career opportunities of current and future talents of the Chinese travel industry.
HSMAI will be conducting a session in the presentation hub on May 17, 2019 starting at 10 am covering the topics of Revenue Management, Data Intelligence and Hotel Sales Distributions. These topics form part of HSMAI's Certificate in Revenue Management (Hospitality) launched in 2017 and created by the senior leaders of revenue management in hotels around the world.
"HSMAI have been busy updating our current courses and developing new education and courses to assist hotel professionals to grow their careers. In 2019, we'll be developing new programmes for hoteliers to continue their learning in digital marketing, distribution and managing commercial functions", says Jackie Douglas, President HSMAI Asia Pacific.
Huilian Duan, President of the HSMAI Greater China Chapter Board, urged her industry colleagues to get behind the education, "All Sales, Revenue and Digital Directors should be certified in their respective fields.  Only HSMAI can offer a global certification for industry experts including General Managers."