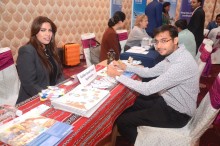 The team of Golden Sands Hotel Apartments, part of AA Al Moosa Enterprises, recently participated at the Dubai tourism roadshow in India. The team joined the delegation headed by the Dubai Department of Tourism and Commerce Marketing (DTCM) that visited the cities of Kolkata, Pune, Ahmedabad and Mumbai and met with potential partners and buyers, in a move to further boost the overall number of Indian travellers to Dubai. According to DTCM, visitors from India have increased by 7 per cent in the first quarter of 2018.
Mohammed Khoori, General Manager, Golden Sands Hotel Apartments said, "We are very keen to get a share of this growing market so we met with several partners who can promote Golden Sands Hotel Apartments to travellers from these four cities. We received great feedback from tour operators and travel agencies who informed us that Indian travellers coming to the UAE are choosing Golden Sands as their preferred accommodation."
The team focused on meeting travel agents and tour operators who are selling the destination to family and individuals as well as niche segments such as small family group, golf, wedding and luxury. Representatives from hotels, airline heads, opinion leaders and heads of key travel trade associations along with travel operators were invited to attend the four-day roadshow.