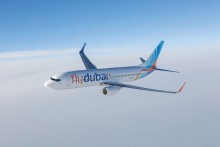 flydubai will operate flights to three points in Kazakhstan following the relaunch of its Shymkent service. The twice-a-week service will be offered from December 28, 2018. flydubai has been flying to Kazakhstan since 2014 and together with the re-launched service to Shymkent and existing flights to Almaty and Astana, the airline will operate 13 weekly flights to three points in the country.
Commenting on the recommencement of flights to Shymkent, Ghaith Al Ghaith, Chief Executive Officer, flydubai, said, "We are pleased to see the strengthening of direct air links between the UAE and Kazakhstan, which provide more opportunities for the development of tourism and trade flows. flydubai has been flying to Kazakhstan since 2014 and we have seen over the years a positive demand from the region."
With flydubai, Business Class passengers can enjoy comfortable spacious seats and a variety of dining options onboard, as well as a priority check-in service and lounge access. flydubai offers its Economy Class passengers numerous features onboard including comfortable seating, a range of tasty snacks to purchase during flights and an award-winning in-flight entertainment system with more than 1,000 hours of films, television, music and an extensive range of Arabic, English and Russian content. The airline's latest offering includes WiFi connectivity and Live TV on selected flights.