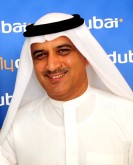 flydubai has announced its latest destinations for the upcoming summer season at the Arabian Travel Market. Flights to Batumi in Georgia, Qabala in Azerbaijan and Tivat in Montenegro will operate from June to September 2017, creating a network of 93 destinations in 44 countries for the Dubai-based airline. This reflects the growth and maturity of flydubai which since 2015 has added 18 new destinations.
"At flydubai we remain committed to providing our passengers with a variety of destinations to travel to, especially during the summer season," said Ghaith Al Ghaith, Chief Executive Officer, flydubai. "The decision to launch our seasonal routes to complement our existing network is a direct response to customer feedback and we hope our passengers enjoy what these hidden gems have to offer," he added.
flydubai's popular leisure destinations reflect the diversity of its network. Last year, its top four destinations for a beach getaway in terms of passenger numbers were Colombo, Salalah, Male' and Zanzibar. The airline has seen passenger numbers to Colombo grow by 24% in 2016 compared to the previous year, with passenger numbers to Salalah and Male' increasing by 40% and 29% respectively during the same period.