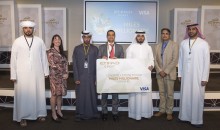 Etihad Guest and Visa, the world's leader in digital payments, have given 11 lucky members of Etihad Guest a New Year gift of one million Etihad Guest Miles each in a Miles Millionaire competition. Members of the airline's loyalty programme who registered for the promotion and booked a flight with Etihad Airways using their Visa card before October 21, had the chance to win one of 11 one million Etihad Guest Miles prizes.
Yasser al Yousef, Managing Director, Etihad Guest, congratulated the Miles Millionaire winners at a presentation ceremony at Etihad Airways' head office in Abu Dhabi. He said, "We are delighted to have our members win these miles – giving them the opportunity to live the high life with Etihad Guest and Visa."
One million miles can buy a host of products, including seven Etihad Airways flights with a friend; or four iPhone 7s, four Go-Pros, four sets of Bose headphones or 87 grams of gold. Etihad Guest Miles can be used to purchase flights, upgrades and thousands of products from the online Reward Shop.