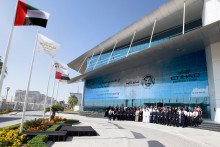 Etihad Aviation Group announced a year-long programme of activities and humanitarian initiatives to mark 2018 as the Year of Zayed. Etihad Airways inaugurated its Year of Zayed activities recently by holding a flag-raising ceremony attended by employees. UAE President His Highness Sheikh Khalifa bin Zayed Al Nahyan declared 2018 the Year of Zayed, a nationwide initiative, which will highlight the UAE founding father's unparalleled role in establishing the UAE Federation, and his local, regional and international achievements as well as his values and principles.
Khaled Al Mehairbi, General Manager, Etihad Airport Ground Services, said, "We are tremendously proud of the rapid growth of Abu Dhabi and the union. All the people of the UAE will always remain the most important element of our nation's development. This was our father Sheikh Zayed's main objective and vision. This year is a momentous one as we honour his achievements and celebrate his legacy in Abu Dhabi and around the world."
In support of the national initiative, and to reaffirm its commitment to the UAE, Etihad has launched a strategy based on the government's four Year of Zayed pillars- wisdom, respect, sustainability and human development.