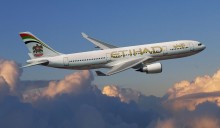 Etihad Airways has entered into a code-share with Avianca Brasil.Under the agreement, Etihad Airways will put its 'EY' code on domestic flights operated by Avianca Brasil, while Avianca Brasil will put its 'O6' code on Etihad Airways flights between Abu Dhabi and São Paulo. Travellers on Etihad Airways flights between Sao Paulo and Abu Dhabi and beyond will benefit from connections to and from eight other Brazilian destinations on Avianca Brasil, including Rio de Janeiro, Curitiba, Florianópolis, Fortaleza, Porto Alegre, Recife, Salvador, and Maceió.
Later this year, Etihad Guest members and Avianca Brasil's Amigo members will be able to earn and redeem miles on code-share flights.
"Avianca is an important strategic partner for Etihad Airways in South America. In addition to the code-share agreement recently signed with Avianca Colombia, we are further strengthening our presence in Brazil with a single combined ticket,"
said Martin Drew, senior vice president – Americas at Etihad Airways.
By end of 2015, Etihad Airways had carried over 340,000 passengers on the route while Avianca Brasil in 2015 transported 8.5 million customers.