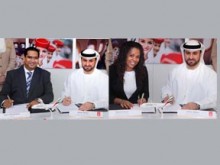 Emirates has renewed individual global marketing agreements with Mauritius and Seychelles in the form of Memorandum of Understandings with the respective tourism boards. The MoUs were signed by Orhan Abbas, Emirates' Senior Vice President, Commercial Operations for Africa, Kevin Ramkaloan, Director of the Mauritius Tourism Promotion Authority, and Sherin Francis, Chief Executive Officer of the Seychelles Tourism Board in presence of Maurice Loustau-Lalanne, Minister for Tourism, Civil Aviation, Ports and Marine in Seychelles.
Various joint activities will be developed under the agreement, such as attendance of tourism trade shows and fairs, trade familiarisation trips, product presentations and workshops. Emirates started operations to the Mauritius in September 2002 with three weekly flights. The daily A380 service was launched in December 2013, and the double-daily service was introduced in October 2014, following a strong demand for Emirates' flagship aircraft on this route. In 2016, more than 1,200,000 tourists visited Mauritius.
In June 2015, Emirates increased its capacity to the Seychelles, when it switched from the Airbus 330-200 used on one of the two daily services to a larger Boeing 777-300ER. The introduction of the Emirates Boeing 777-300ER, which operates as flight EK 705 from Dubai and as EK 706 on the return flight, increased the overall capacity on the route by 1722 seats per week and made the route an all-Boeing 777 operation.