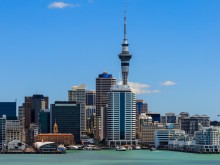 Emirates has launched its new service to Auckland via Bali from June 14, 2018. The new operations will offer global travellers a total of three daily services to New Zealand, complementing Emirates' existing non-stop daily service between Dubai and Auckland. Emirates' new Dubai-Bali-Auckland flight will provide the only year-round non-stop daily service between Auckland and Bali, giving passengers an opportunity to visit or stop over in one of the most popular islands in Indonesia.
The airline will operate a 777-300ER on the route, offering eight seats in First, 42 seats in Business and 304 seats in Economy class, as well as 20 tonnes of belly-hold cargo capacity. Tim Clark, President, Emirates Airline, said, "We are confident that our year-round service between Auckland and Bali will be well received by our customers, not only in New Zealand and Indonesia, but also from our global network particularly from markets like the UK, Europe and the Middle East."
The southbound flight, EK 450, will depart Dubai at 06:55, arriving at Denpasar (Bali) at 20:20 local time, before flying on to Auckland at 22:00, arriving in New Zealand's biggest city at 10:00, the following day. Northbound, the new service will depart Auckland as flight EK 451 at the convenient time of 12:40, arriving in Denpasar at 17:55 local time. It will depart Denpasar at 19:50, arriving in Dubai just after midnight at 00:45.