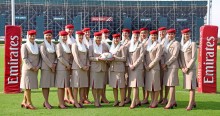 The 2018 Emirates Airline Dubai Rugby Sevens is underway at The Sevens Stadium. Now in its 49th year, the event is set to be the largest event on record with over 930 rugby and netball matches across three days and enhanced entertainment for everyone. During the Dubai Sevens, Emirates will be bringing the Rugby World Cup and will be displaying it at its hospitality for guests and fans.
After six months of training, drills and preparation, the EK Firebirds, an all-women's rugby club comprising Emirates Cabin Crew from 14 different nationalities, is ready to compete at the 2018 edition of the Emirates Airline Dubai Rugby Sevens invitational women's tournament.
The EK Firebirds squad met with the USA Women's Eagles, the national sevens rugby team, for a mini-training camp ahead of the tournament, where they ran through practice scrums, along with kicking and tackling techniques and exercises. The EK Firebirds team members come from rugby loving nations including the UK, Australia, New Zealand and South Africa, as well as other diverse nations like Romania, Slovakia, the Czech Republic, Namibia, the Philippines and Nigeria – reflecting the multicultural Cabin Crew team at the airline and the global make-up of Dubai. The team members have found time to practice and train during their busy travel rosters, and organise themselves to ensure that as many of them train together as possible, using the Sevens stadium, Zaabeel Park and other venues in Dubai as their training grounds.