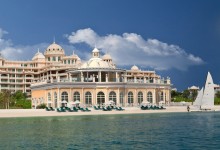 Kempinski Hotels launches Emerald Palace Kempinski Dubai on the West Crescent of Dubai's exclusive Palm Jumeirah. The 100,000sqm beach resort pays homage to the palaces of 18th century Europe. With 389 rooms and suites, eight world-class restaurants and bars, 3,000 sqm Cinq Mondes Spa, state-of-the-art fitness centre and yoga studio, 500m private white sand beach and 80-seat private cinema, Emerald Palace Kempinski Dubai provides a gateway into palatial living.
"We look forward to welcoming our discerning guests to our palace by the sea in 2018, and bringing them on our journey," says Sebastien Mariette, Managing Director, Emerald Palace Kempinski Dubai. "We aim to offer a combination of timeless opulence and world-class luxury to guests visiting Dubai, guaranteed to create unforgettable memories. The UAE is a compelling country full of rich culture, diverse landscapes and unique attractions, making it a must-visit destination for tourists from around the world."
Offering eight categories in total, the hotel offers 389 guest rooms and suites – each furnished with bespoke pieces from traditional Italian craftsman. At 65 sqm, the deluxe rooms offer one of the most spacious level entry room categories on Palm Jumeirah, while mezzanine suites give guests the chance to add a unique element to their stay.