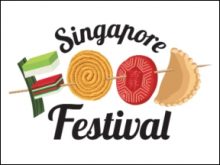 Singapore Food Festival (SFF) will take on a virtual format this year. Themed "Rediscover the Foodie in You", SFF 2020 will see more than 25 F&B partners coming onboard to serve up gastronomic experiences for festival goers to enjoy at home. Taking place across two weekends in August (21–23 August and 28–30 August), Singapore's dining scene will come to life in the form of virtual food tours, live masterclasses and chef collaborations.
SFF also encourages the rediscovery of our local cuisine – from the rich depth of foodie traditions to innovative new takes on Singapore cuisine that continue to shape the past, present and future of our food culture. During this challenging period for the F&B industry, SFF 2020 also aims to be a platform for chefs and local F&B businesses to collaborate and showcase their culinary passions and products.
Ranita Sundra, Director of Retail and Dining, Singapore Tourism Board (STB), said, "While we are unable to host SFF in its usual form, we are excited about the possibilities that the festival's very first virtual edition will bring. This year's programming aims to bundle the joy of feasting with interactive and engaging experiences. We encourage everyone to support our chefs, bartenders and food personalities, while rediscovering the foodie in them through the exciting gastronomic activities we have planned."
Through these virtual tours, audiences will learn more about the history and heritage of the precincts and the food secrets they keep. With SFF going virtual this year, popular mobile app Snapchat will also join in the fun with their launch of an exclusive foodie-themed filter lens that participants can use to record and share their favourite SFF moments. This will be available on 21 August.