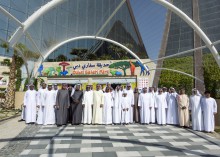 Eng. Hussain Nasser Lootah, Director General, Dubai Municipality, along with other members of the Dubai Safari team welcomed the UAE dignitaries and VIPs at the opening recently. As part of the visit, Eng. Lootah hosted a tour of the 119-hectare park, including stops at the Arabian Village, African Village as well as the open Safari Village, in addition to the UAE's largest walk-through aviary.
"Dubai Safari would like to thank its guests for visiting the park today. It was our honour to host them and give them a tour of the various villages and activities that make Dubai Safari a must-visit experience for both UAE residents as well as visitors from around the world," said Eng. Lootah.
Dubai Safari is open daily from 9 am to 5 pm including all public holidays and is located at Al Warqaa 5 district across Dubai's Dragon Mart off the Dubai-Hatta Highway. There are different tickets available to the public at Dubai Safari like the Safari Park ticket and Combo Ticket. Senior citizens and children under the age of three are allowed to enter Dubai Safari for free.