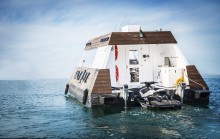 Ever thought of savouring your food while enjoying the sea? UAE has launched Aqua Pod, the world's first sustainable floating drive-through, set to float in Dubai's lagoons, providing visitors with a first-of-its-kind experience while at sea. For the first time ever, sea-goers can satisfy their hunger while at sea and enjoy food and beverages as they would from a traditional food truck. This unique concept comes at the hands of award-winning architect Ahmed Youssef, founder of Aquatic Architects Design Studio (AADS) and creator of Aqua Pod.
"Realising the value of the sea, we have set out to create an innovative platform which allows us to tap into the aquatic market, with sustainability at the core of every design decision to preserve the marine environment," says Ahmed. "At AADS, we understand the value of the region's shorelines and beyond, so we saw an untapped opportunity to bring an innovative concept to the UAE," he said.
The Aqua Pod boasts a revolutionary architectural design with sustainability features, matching the UAE government's focus on green initiatives. Largely running on electrical power, the Aqua Pod's operations enable the production of clean water from the sea excluding any negative discharge. The Dubai Maritime City Authority pledged its support to this project by creating a new license category for this unique floating facility.