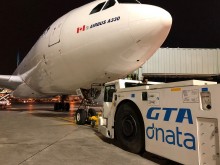 GTA dnata expands operations at Toronto Pearson International Airport with the start of a new, long-term partnership with Air Transat. Starting from November, GTA dnata provides ground and passenger services to the airline, more than doubling the number of flights handled by its operations. To support the growth, GTA dnata has hired more than 200 additional staff to its team, which now consists of 450 customer-oriented aviation professionals.
Mario D'Urso, Chairman, GTA dnata, said, "We are proud to have been selected the ground handling partner of Air Transat at Toronto Pearson International Airport. This long-term contract is a vote of confidence in our quality services and we look forward to supporting the extensive operations of Canada's largest leisure carrier. It is our aim to exceed our customers' expectations, and we will continue to work hard to deliver excellent service for all our airline partners in Toronto with our expanded team."
dnata entered the Canadian market by establishing GTA dnata through the acquisition of 50 per cent stake in GTA Aviation's cargo and ground-handling operations at Toronto Pearson International Airport in 2016. GTA dnata now serves 12 airlines in Toronto, assisting 4,800 passengers and moving two tons of cargo every day. Underlining its commitment to the Canadian aviation market, dnata will also establish flight-catering operations and open a new, state-of-the art facility in Vancouver in January 2019.