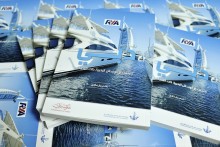 The Dubai Maritime City Authority (DMCA) has completed its preparations to provide an integrated portfolio of maritime licensing services at the upcoming Dubai International Boat Show 2018, to be held from February 27 to March 3, 2018 at the Dubai Water Canal in Jumeirah. The services will be showcased at the DMCA pavilion to help facilitate maritime licensing procedures for applicants looking to manage their maritime operations in accordance with the highest standards in safety, best environmental practices, and local and international regulations.
The DMCA team will showcase maritime licensing services in accordance with innovative tools that ensure compliance with marine technical standards, maritime safety regulations and local environmental requirements, in line with Dubai's efforts to improve performance, safety, efficiency and competitiveness of the maritime sector in the emirate. Applicants may facilitate the completion of their maritime driving license tests and complete the licensing procedures of marine vessels of all kinds efficiently.
Amer Ali, Executive Director, DMCA explained the importance of the maritime licensing services as an integrated regulatory framework which consolidates maritime safety, safe navigation and operational efficiency. "We look forward to demonstrate our advanced maritime licensing process through smart transformation initiatives, which is our top priority as we strive to enhance the components of the local maritime sector based on innovation, sustainability, inclusiveness and innovation," concluded Ali.